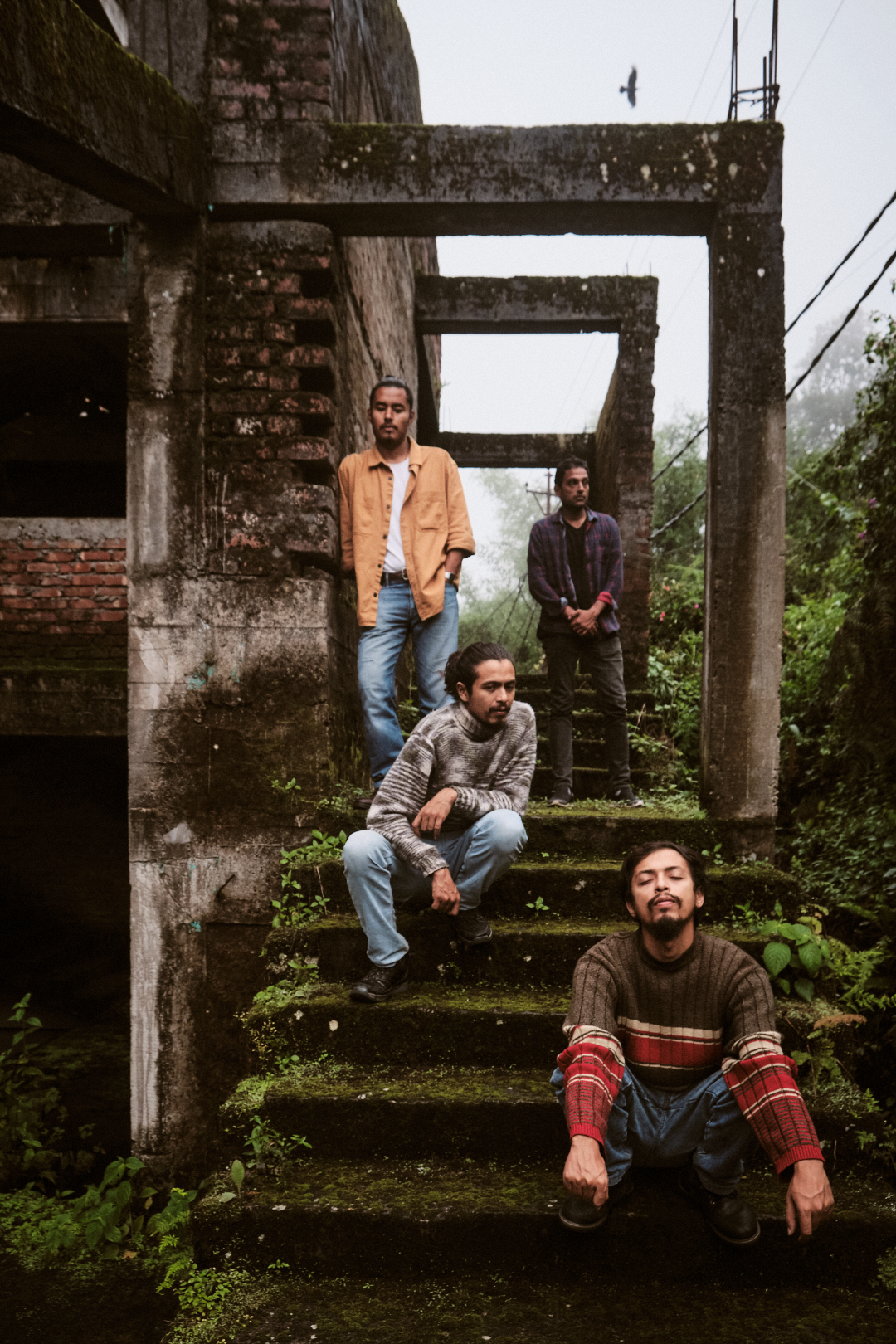 Gauley Bhai ("the boy from back home/of the neighbourhood" in Nepali, lit. "younger brother from the village") is a transtraditional rock band, based in Bangalore and Kalimpong. In 2017, a group of friends met in a jam room in Bangalore - Siddhant, Veecheet and Anudwatt from Kalimpong (Gorkhaland - nepali-speaking north-east India) & Joe from Calicut (Kerala). They began creating music that reflected their journeys of migration. The music drew from sounds of their childhood, growing up in small towns, and the fractures of life in a city.
Over the years, through many ups and downs including a global pandemic, their search for a unique sound carries on. Their eclectic influences range from Nepali folk (Jhalakman Gandharva, Bir Bahadur Biswakarma), South-Indian Singari rhythms, Malian folk (Bassekou Kouyate & Ngoni Ba), Tuareg rock (Tamikrest, Mdou Moctar), western guitarists like Marc Ribot or R.L Burnside, and of course the great classics of rock, blues and hiphop from the US.
In 2019, they released their debut album Joro ("fever" in Nepali), a thematic exploration that weaves together love, identity and memory. The next album in making reflects their individual & collective journeys, the personal and the political, in all its beauty and tragedy. Unhindered by labels, their music continues to be genre-fluid, dynamic in its inspiration and exploration: perhaps it can only be defined in the way it makes you move and groove.
The band describes their music as a combination of rock, contemporary ethnic & regional roots music, creating with the spirit of a jam band.
Veecheet Dhakal (violin / vocals)
Siddhant Mani Chettri (guitar)
Anudwatt Dhakal (bass)
Joe Panicker (drums)
Samuel Amulraj (sound engineer)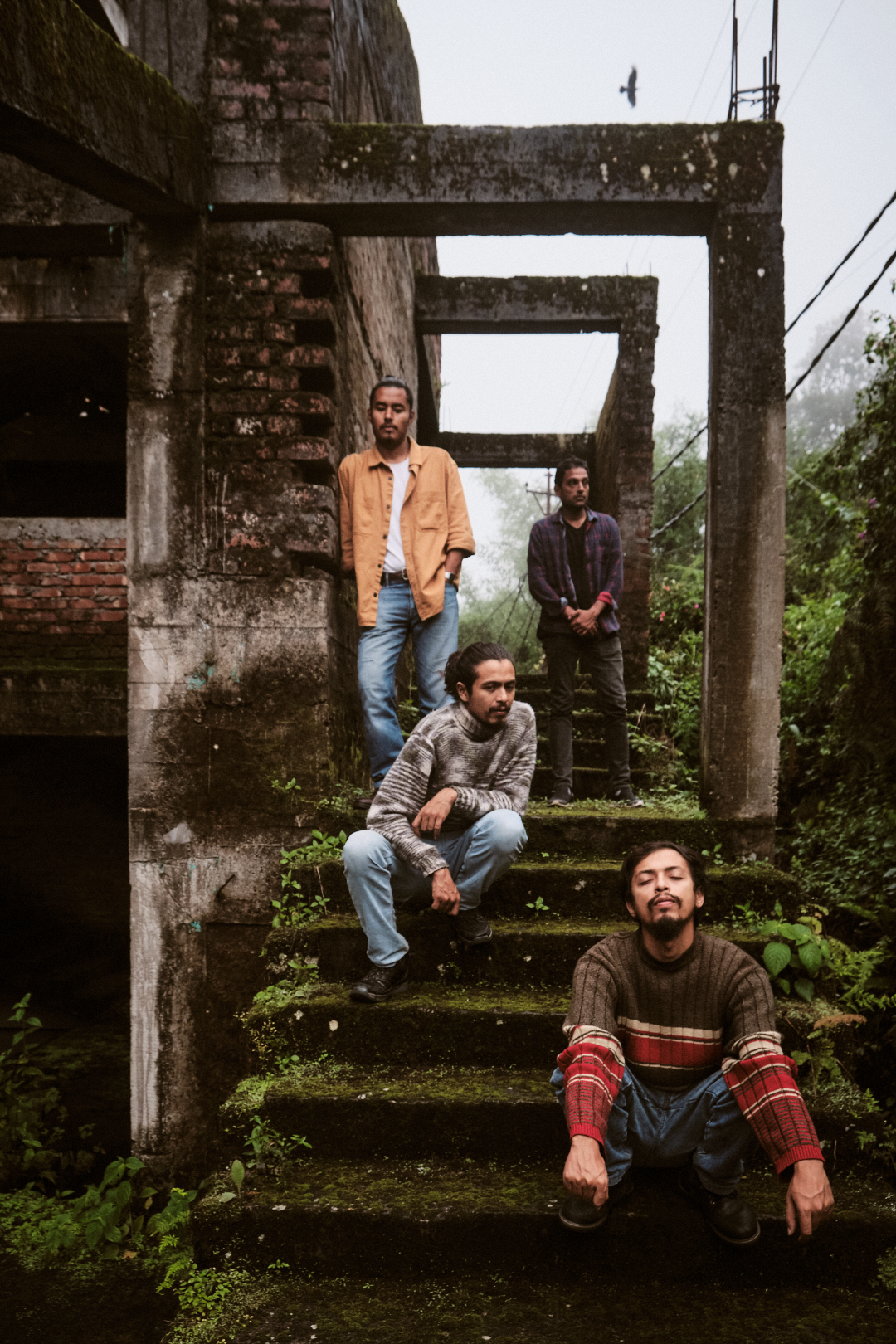 "Joro"— Crowdfunded, self-produced debut album.
June 2019.
Without context, I would have put Gauley Bhai's 'Joro' right next to Tinariwen and Imarhan in my imaginary library of records, mindlessly mistaking their infectious Nepali songs for Tuareg music. The parallels might begin with the idea of a rock outfit emulating its ethnic folk music, but don't end there.
The varying shades of its tracks elevate the release from being just a collection of songs to being a cohesive album suitable for an engaging listen-through. With 'Joro', I can imagine myself ignoring all its background information and its merit as the work of a young emerging act, decidedly cueing it between my records of choice, and not missing a beat.
—
excerpts from
"Review: 'Joro' By Gauley Bhai".
Wild City
. Amaan Khan (2019, June 13).
Article
.
Joro hits you like a gust of fresh air in a stuffy room when it's 80 degrees outside. The musical stylings of this four-piece band are eclectic, innovative, and vigorously energetic. Even in recordings of their live performances, their energy is infectious, perfect for grooving along to while locked down inside and a pandemic rages outdoors. 
Joro is a refreshing album, one not bound by geography or style. The band members take liberally from a diverse range of musical styles, effortlessly incorporating them into a sound that is completely their own. Even the violin that Veecheet plays sounds eerily like a sarangi. 
Songs like Simrayo bear a distinctly African blues vibe with its finger-picking intro and its syncopated rhythm. Joe's drums and Siddhant's guitar play off each other, despite going off in their own directions. Anudwatt's bass slips and slides like an eel, providing some much-needed grounding, despite each track threatening to spin off into an extended jam session. 
Veecheet sings in thet Nepali, his vocals resonating with echoes of the Gandharvas. Jhalakman Gandharva, Hira Waiba, Bipul Chettri and Cadenza Collective are among their Nepali music influences. But their sonic palette is wide-ranging, combining sounds from a musical renaissance in the west African country of Mali with idiosyncratic choices like neo-soul superstar D'Angelo, bassist extraordinaire Jaco Pastorius & drum prodigy Chris 'Daddy' Dave.
—
excerpts from
"Breaking the fever with Gauley Bhai's Joro".
The Record Nepal
. Pranaya SJB Rana (2021, May 17).
Article
.
18/11 | Pine Tree Festival - Kurseong (India)
24/11 | Freemason's Brewworks - Guwahati (India)
25/11 | The Evening Club - Shillong (India)
01/12 | Momo I Am - Kolkata (India)
03/12 | NH7 Weekender - Pune (India)
15/12 | Magnetic Fields - Jaipur (India)